There are plenty of guides out there that show the German alphabet, in the Fraktur, Sütterlin, and Kurrent styles. These guides can really help you when trying to decipher old documents that use the German language. One that I find useful can be found here and contains all three styles. However, I have taken a slightly different approach, and thought I'd share it on the off chance it helps someone else.

About a year ago, I downloaded a Fraktur font just for fun. Okay, maybe fun isn't the right word, but I wanted to practice reading German type, and since I can't even read my own English handwriting (and that style is very elaborate), I figured what better way to study the letters than to read them, type them and hope that they match! It really did help with distinguishing between those tricky, similar letters. The font that I downloaded was MarsFraktur Normal and I found it at Fraktur German True Type Fonts and Others. Of the fonts listed, this particular one included all of the special characters.
Over the last few weeks, in my spare time (wait, what's that?), I've been going through German church records, all handwritten, using Sütterlin, Kurrent, or a combination thereof. While I have my handy-dandy letter guide, it's a cumbersome process. I am looking at every entry for certain people listed as parents or witnesses in hopes of building a network of my second great-grandfather's associates (so far, there are a few promising leads!!). Anyway, skimming these entries is not as easy as scanning English entries, particularly when the handwriting is (literally) foreign to you. Some names (okay, most) look nothing like their English equivalent.
So, to hopefully prevent me from reading over a name, I developed a cheat-sheet with the names I am looking for and what they look like in German. What a difference this has made. Recognition and recall are helping me avoid skipping a name and move a little faster through the records. Below is a partial listing of my list, which is now by my side when working with the church records. I used the font Sütterlin, developed by Professor Don Becker; it can be downloaded here.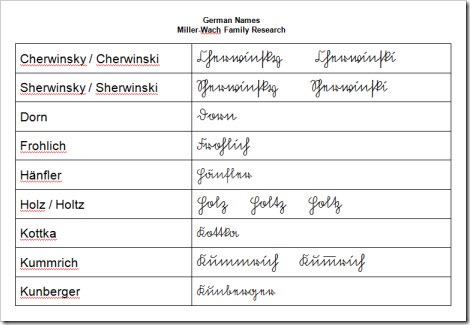 Hope someone else out there finds this tip helpful. Best of luck to everyone seeking their German roots.