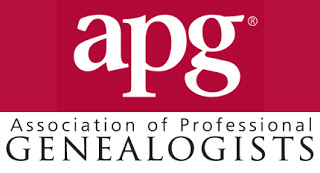 I received the following message from the Association for Professional Genealogists (APG) last week and thought I'd share it with my readers.
---
APG Announces New Chapters
APG Celebrates its First Chapters Outside of North America,
Offers Members a New, Virtual Option
The Association of Professional Genealogists (APG) today announced that it added seven new chapters in 2013. The new chapters will provide underserved geographic areas with programs aimed at the professional genealogist. APG now boasts 29 chapters worldwide.
"Its so exciting to see our members recognize the value of chapter membership, at home and abroad," said Diane Gravel, CG, chair of the APG Chapter Review Committee. "Over the past year, APG has made tremendous strides in providing educational and professional development opportunities to its members. But chapters can address local issues and offer a variety networking opportunities not possible at national and international levels."
The new chapters are:
Australasian Chapter: This chapter will serve Australia and New Zealand. The group plans to meet regularly by web conference, with possible face-to-face meetings and programs.
Britain, Ireland, and the Isles Chapter: Beyond serving its members, this chapter is uniquely positioned to work with and assist colleagues and clients from North America and Australasia.
Chicago Chapter: The chapter officially formed in early 2013 (as a relaunch of an inactive chapter) and has already met in person at genealogy conferences and workshops. It is holding a meeting 16 November with the Chicago Chapter of the Association of Personal Historians.
Greater Philadelphia Area Chapter: The new chapter replaces the inactive Philadelphia chapter, expanding its geographic boundaries to support more members in eastern Pennsylvania, southern New Jersey, and Delaware. The chapter meets quarterly at the Genealogical Society of Pennsylvania in Philadelphia, with remote options available for members unable to attend in person.
Kentucky Chapter: The chapter began meeting early this year and has attracted more than 30 members from Kentucky and neighboring states. The group meets by web conference and, when possible, in person. The chapter will exhibit at the 2014 National Genealogical Society Family History Conference.
New Jersey Chapter: The chapter formed in August and will meet each year in January, April, July, and October at the Grabas Institute for Continuing Education in Edison, NJ. The chapter maintains a Google Groups mailing list for 43 members.
Virtual Chapter: The APG Virtual Chapter offers another opportunity for chapter involvement to those for whom traditional chapters are not an option. Chapter members communicate via email, hangouts, webinars, and other means which eliminate the geographical boundaries usually associated with chapter membership.
APG members may belong to more than one chapter, and may join a virtual one such as the Virtual Chapter or the Second Life APG chapter. Members interested in joining these or any APG chapters will find more information on the APG website: http://www.apgen.org/chapters/index.html.