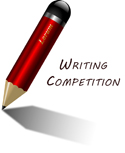 Entries for the 2014 Massachusetts Society of Genealogists (MSOG) Writing Contest are due by August 15, 2014. You must be a member of MSOG to participate.
Entries must be original content (i.e., not previously published) and relate to genealogy or family history. "Submissions could be a three-generation family study, tell an interesting story about parents and children, or provide a brief solution to a genealogical problem."
Complete details can be found here.
Need some convincing to write about your genealogy research? See my post 4 Reasons to Convert Your Genealogy Research Into Writing.