After reading Heather Wilkinson Rojo's post, Would You Like to Contribute to the Honor Roll Project for Memorial Day?, I thought I would carve out some time to participate.
Oak Ridge Cemetery in Springfield, Illinois, has memorials dedicated to World War II, the Korean War, and the Vietnam War. While I have pictures of all of them, the Korean War Memorial is the only one where I have some names, those being Medal of Honor recipients.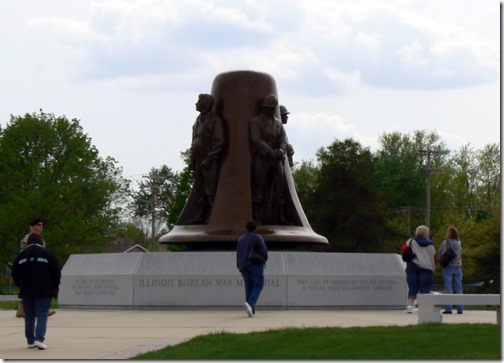 The Korean War Memorial at Oak Ridge, was dedicated on 16 June 1996. According to the Illinois Historic Preservation Agency's website:
The Memorial consists of a twelve-foot-tall bronze bell, with a diameter of twelve feet, mounted on a granite base. At the circumference of the bell are four niches, each with a larger-than-life figure representing a branch of the armed services. Inscribed on the base are the names of Illinoisans killed in Korea.
Again, I do not have the names that are presented on the base of the Memorial, but a few feet away are two markers, one of which has the war's statistics along with Illinois Medal of Honor Recipients.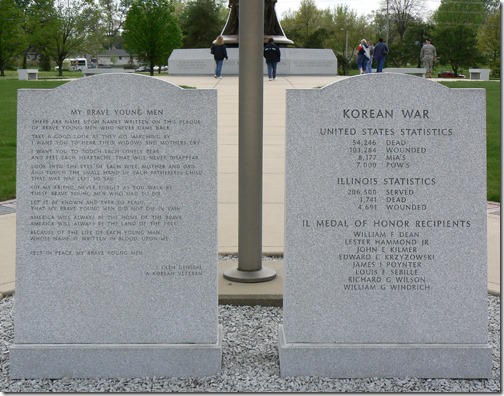 The marker on the left reads:
My Brave Young Men

There are name upon names written on this plaque
of brave young men who never came back
Take a good look as they go marching by
I want you to hear their widows and mothers cry
I want you to touch each lonely tear
and feel each heartache that will never disappear
Look into the eyes of each wife, mother and dad
and touch the small hand of each fatherless child
that war has left so sad
Oh my friend, never forget as you walk by
these brave young men who had to die
Let it be known and ever so plain
that my brave young men did not die in vain
America will always be the home of the brave
America will always be the land of the free
because of the life of each young man,
whose name is written in blood upon me
Rest in peace my brave young men

–Glen Genseal, A Korean Veteran
The marker on the right reads:
Korean War

United States Statistics
54,246 dead
103,284 wounded
8,177 MIA's
7,000 POW's

Illinois Statistics
206,500 served
1,741 dead
4,691 wounded

IL Medal of Honor Recipients
William F Dean
Lester Hammond Jr
John E Kilmer
Edward C Krzyzowski
James J Poynter
Louis F Sebille
Richard G Wilson
William G Windrich
This week, I also read about a collection on Fold3 for Medal of Honor Recipients, which appears to be freely accessible. So, taking this post one step further, I decided to link the men above to their respective page in the collection.
To my fellow Americans, take a moment this weekend to honor our country's fallen heroes.