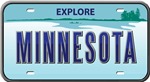 I don't do much research for Minnesota, although I do have some very distant cousins who have lived there at one time or another. Instead of working on those distant families, I wanted to see what types of online collections were available. For those with Minneapolis ties, you're in luck.
The Hennepin County Library has a wonderful digital collection (scroll to the bottom and look in the right-hand menu for Digital Resources). Of course, my favorite, is old photos. The Minneapolis Photo Collection has a variety of photos going back to the 1840s, although they do not indicate how many are currently digitized. A search on the keyword "church" returned 586 photos, so I'd say the collection is pretty substantial.
They also have Minneapolis city directories digitized for the years 1859 to 1917. That's right, completely digitized and available for free. Oh, and did I mention they are searchable?
Additionally, they have digitized various Minneapolis high school yearbooks during the period between 1890 and 1922. These are also free and searchable.
They even have an oral history collection, which has some really neat interviews.
If you have family from Minneapolis, I highly recommend you check out the Hennepin County Library's digital collection. Maybe you'll stumble across a high school photo of your great-grandfather or a picture of the church where your great-aunt and uncle married.
---
Genealogy By the States is a theme created by Jim Sanders over at the Hidden Genealogy Nuggets blog.