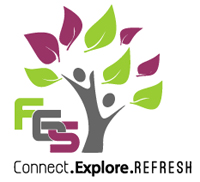 As FGS Ambassadors, we get monthly blogging prompts to help us spread the word about upcoming Federation of Genealogical Societies conferences. This month, it's all about what the 2015 conference theme "Connect.Explore.Refresh" means to us.
Genealogy conferences in general allow us the opportunity to connect, explore, and refresh. FGS conferences are certainly no exception, and I always look forward to their conferences to do those three things.
FGS conferences draw in a vast crowd of genealogy enthusiasts from all over, from hobbyists to professionals and everyone in between. There are plenty of opportunities to connect with a variety of people to share stories and learn for one another. I find that I do much of this over dinner with a group of people or in the hotel lobby in the evening hours. Don't be shy! Connecting with others is a great way to learn and to build your network of like-minded people and many of these relationships last a lifetime.
FGS conferences also provide tons of lectures covering a wide range of topics. We are all there to learn. While I do tend to listen to lectures that relate to topics relevant to my own research, I try to explore a handful of topics that sound interesting, even though they may (at the moment) have nothing to do with my current research projects or goals. Be sure to attend a variety of lectures and expand your horizons.
One of the many benefits I find from attending FGS conferences is that once I have spent a week meeting new people and learning about new things, I feel rejuvenated. Sometimes we just need to hit the refresh button in order to regain our focus and motivation; conferences are my personal refresh button. I walk away from these conferences with new avenues of research to explore, new techniques to try out, and new relationships to enjoy.
---
The 2015 FGS Conference will be held February 11-14, 2015 at the Salt Palace Convention Center in Salt Lake City, Utah. Register before January 23, 2015, to save $30.