Back in August 2012, I had read an interesting post that prompted me to evaluate known ancestors in my direct line. I wrote the blog post What's Your Number? (…and an Epiphany), which showed my numbers as well as what I discovered about past and present (at the time) research habits.
I have seen a few people posting about this recently, and I thought it was time to do an update and see if any of my numbers went up as a result of the research (albeit minimal) I had done since August 2012. I am happy to report that I have discovered 10 additional direct-line ancestors, mostly confirming suspicions I previously set out to prove or disprove (side note – a research plan can be a great thing!).
My new numbers are…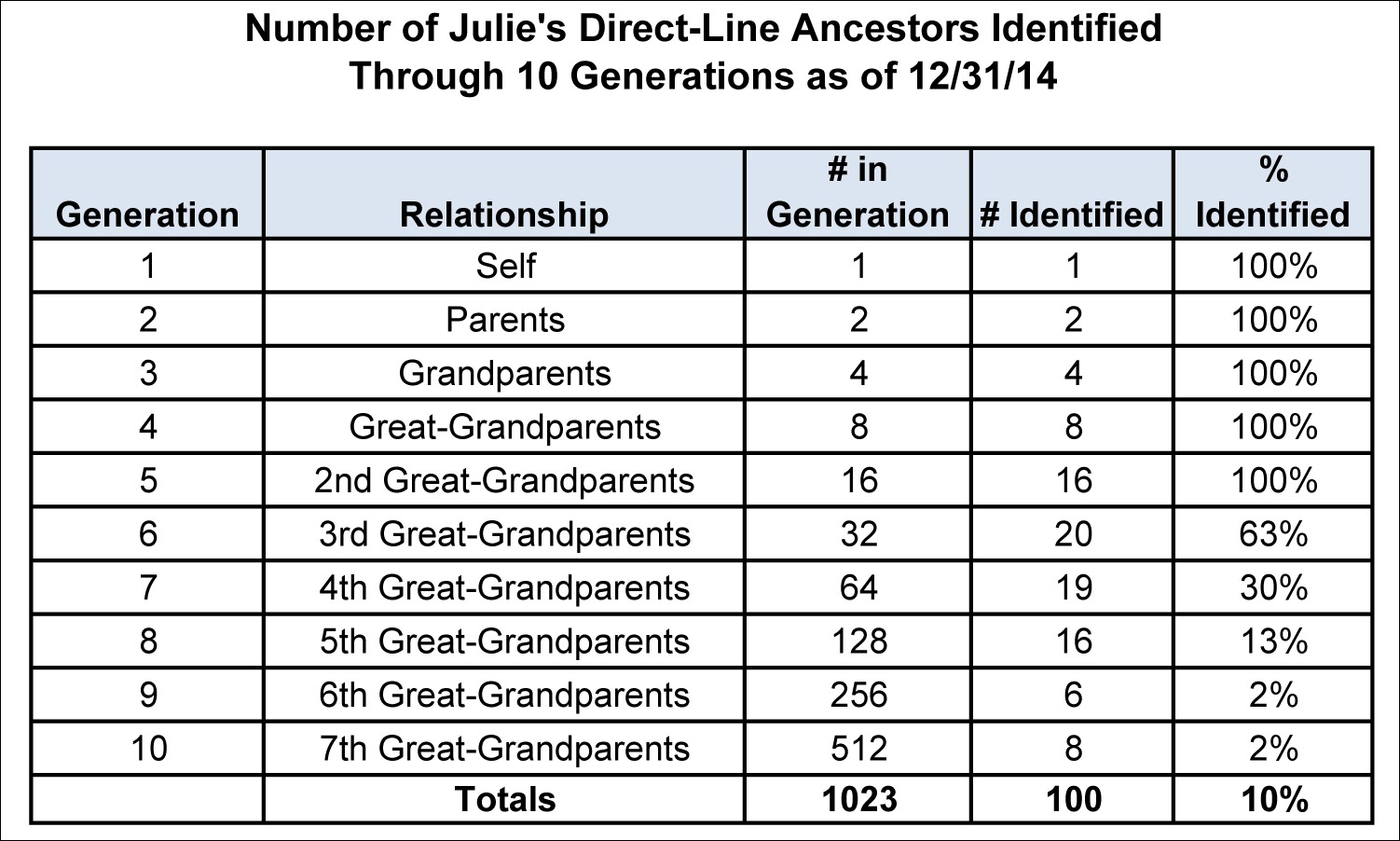 My increases occurred in generations 6 through 8. I'd like to be able to complete the sixth generation. Most of those left to discover are the parents of my fifth generation immigrant ancestors. Knowing the parents and the place of origin for these fifth generation ancestors will likely open new doors to the seventh generation and possibly beyond.
As I stated in my first post, this doesn't mean I am done with the known ancestors. I am still working to understand their lives and the times and places in which they lived. I'm pleased that I was able to add 10 direct-line ancestors to my family, but I am also enjoying the things I've learned about the other people I've been studying, including collaterals.
I plan to check in at the end of 2015 to see where my numbers are at. The family I am currently working on the most, if the mystery can be solved, has the potential to add two more people to the seventh generation. Perhaps by the end of 2015 I will be up to 102 total known direct-line ancestors. But even if the number stays at 100, even for several years, I'm okay with that.