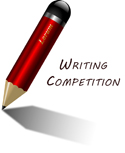 The Western Michigan Genealogical Society 2017 Writing Contest kicked off on January 1, 2017 and will run through March 30, 2017. You do not have to be a WMGS member to enter and there is no entry fee. Entries must be 1,500 to 3,000 and center around the theme "A Sense of Place," particularly the Great Lakes Region.
Winning entries will be published in Michigana. Winning authors will be awarded a monetary prize as follows:
1st place – $100 and an annual WMGS membership
2nd place – $75 and an annual WMGS membership
3rd place – $50
4th place – $25
Winners will be announce in May.
Full details on the contest can be found here (opens a PDF).
---
Need some convincing to write about your genealogy research? See my post 4 Reasons to Convert Your Genealogy Research Into Writing.