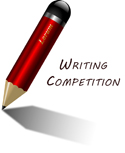 The Western Michigan Genealogical Society 2016 Writing Contest kicked off on January 1, 2016 and will run through March 30, 2016. You do not have to be a WMGS member to enter and there is no entry fee. Entries must be structured around the theme "Event in History & How It Affected Your Family."
Winning entries will be published in Michigana. Winning authors will be awarded a monetary prize as follows:
1st place – $100 and an annual WMGS membership
2nd place – $75 and an annual WMGS membership
3rd place – $50
4th place – $25
Winners will be announce in May.
Full details on the contest can be found here (opens a PDF).
---
Need some convincing to write about your genealogy research? See my post 4 Reasons to Convert Your Genealogy Research Into Writing.