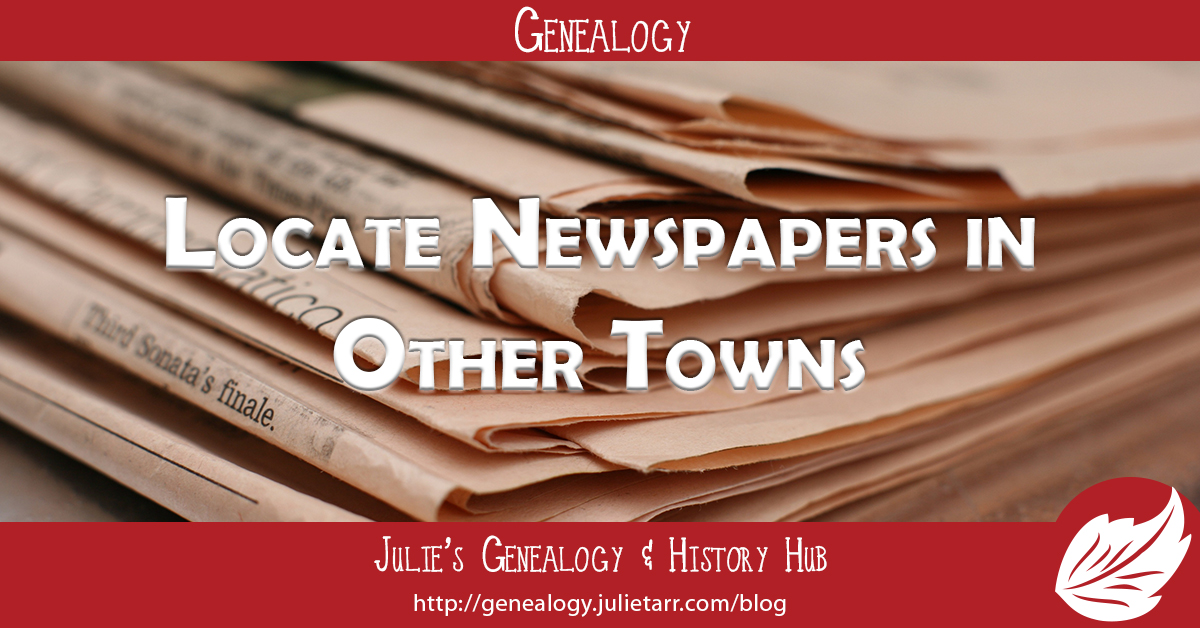 Newspapers are great resources for genealogists. Sometimes newspapers are overlooked because they can be difficult to search and/or hard to access. The efforts by many genealogy record-providing websites, Chronicling America, and local libraries are making it easier to access newspaper collections, and because of OCR (optical character recognition) technology, searching newspapers is a bit easier.
There are tons of tips I could offer related to newspaper research. I chose this one because it is often overlooked. When we use newspapers in our research, we tend to head straight to the newspaper(s) published in the town where our target person lived. Of course, there is nothing wrong with this strategy, but let me offer a supplemental option—also look for newspapers in other towns. Why? There are several reasons, actually, so let's take a look.
Former Residence
Some small-town newspapers will run news related to former residents, so be sure to check the newspapers in all the places your target person lived. In some cases you may find items reporting that the person is in town visiting family or friends. These "comings and goings" notices usually give the place they currently reside, which is helpful if they're hiding in an unknown location. You may also find death notices, obituaries, marriage announcements, and the like, for former residents. So if you are looking for a specific life event, you might check the newspapers in the town(s) they lived previously, just in case.
Here's an example of a marriage announcement in a newspaper where the target person had lived several years prior to his marriage. Even though Emil Miller and his bride were living in Chicago at the time of the marriage, and the marriage took place in Chicago, the nuptials were reported in the newspaper for Harvard, Illinois, the town were he resided for a short time.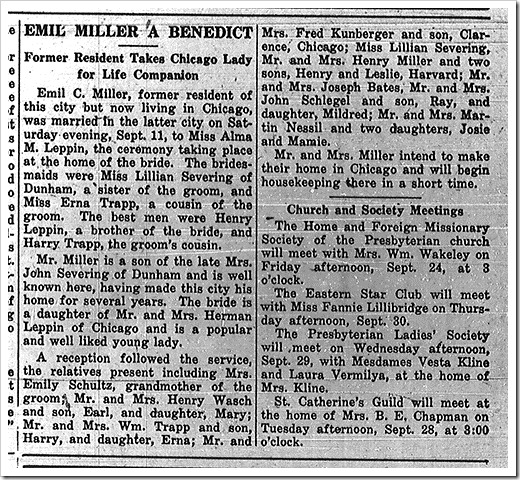 "Emil Miller a Benedict," Harvard (Illinois) Herald, 23 September 1915, p. 4, col. 6-7.
As you can see, there are all sorts of tidbits of interest, including people who attended the ceremony. I have yet to find nary a mention in a Chicago newspaper, so this find was gold!
Relative's Residence
As with checking the newspapers of a target person's former residence, you might also consider checking the newspapers where other family members reside. Like above, sometimes you'll find those nice "comings and goings" when someone is in town visiting (or leaving town to visit elsewhere).
There may also be times when an event for your target person is reported in the newspapers of relatives' residences. In the above example, although Emil resided in Harvard for a short while, at the time of his marriage, his brother was living in Harvard and his half sister was living in nearby Dunham. In the following example you'll see an obituary for James Thomas, who was technically a resident of Dubuque, Iowa, some 75 miles north of Moline, the place where this news items was reported. James actually died in Moline while visiting his daughter.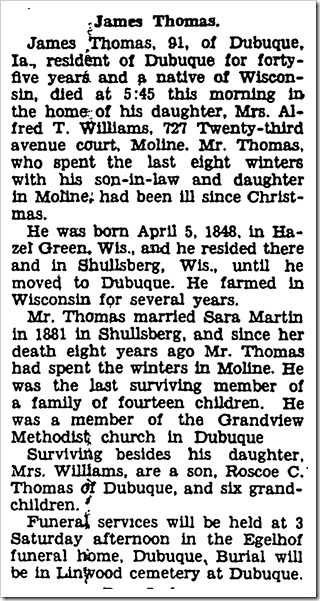 "James Thomas," Daily Dispatch (Moline, Illinois),
25 January 1940, p. 29, col. 4.
You might be stumped wondering what happened to James since his death would not be among the death records for Dubuque. But, by looking at the newspaper where his daughter lived, you could learn where and when he died, as well as other helpful information.
Nearby Towns
Even when a small town has its own newspaper, other nearby towns may run the same or a similar story. This is particularly helpful when you don't have access to a particular newspaper. For example, in the following news item from the Morton (Illinois) News, which is easily accessible online, there is a list of World War II draftees from Tazewell County, Illinois. This same list was probably run in other local area newspapers within Tazewell County, including the Pekin (Illinois) Daily Times (Pekin is the county seat). But without easy access to these other newspapers, you might miss this news item. Keep this in mind when you do broad searches in online newspaper collections—just because an unfamiliar newspaper shows up in your results, doesn't mean it's not returning a news items for your target right person. (This is why knowing your location, including other areas within the county, is important—but that's another post entirely!)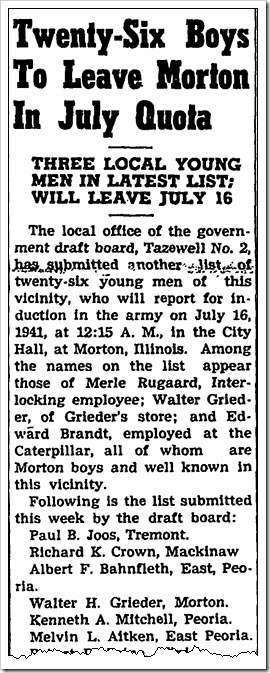 "Twenty-Six Boys to Leave Morton in July Quota," Morton
(Illinois) News, 10 July 1941, p. 1, col. 5.
Although this is only a partial reproduction of the news item, you can see just in the first six names, five different cities/towns are noted. Because Pekin is the county seat, it is usually the go-to newspaper for the county and all neighboring towns, even though some town have their own newspapers. But at the time of this writing, Pekin's newspapers are only accessible on microfilm at a few libraries. In the meantime, you could use the free digital collection provided by the Morton Public Library, which has several Morton-based newspapers available, and probably gather some good news items related to your target person, even if they didn't live in Morton.
Large towns may carry the news of smaller nearby towns. In many cases, the coverage in the small-town newspaper would be more in depth, however, this is not always the case. Consider these two obituaries. Lillian (Severing) Lathrop, who was a lifelong resident of Harvard, Illinois, had an obituary in both the local Harvard newspaper, and one of the newspaper in Rockford, a larger city about 30 miles away (and not even in the same county).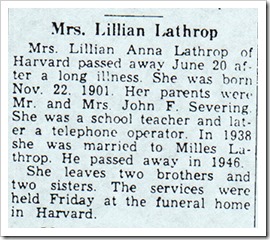 "Mrs. Lillian Lathrop," Harvard (Illinois) Herald,
28 June 1951, p. 6, col. 4.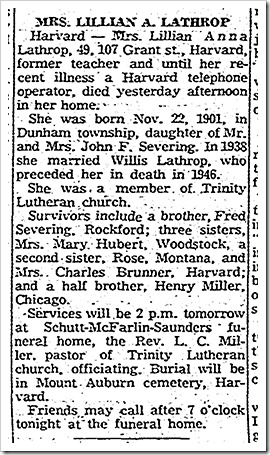 "Mrs. Lillian A. Lathrop," Rockford (Illinois)
Register-Republic, 21 June 1951, p. 2, col. 2.
You would think that the obituary in the Harvard newspaper (top) would be more detailed but, as you can see, it is the one in the Rockford newspaper (bottom) that carries important tidbits about Lillian (some that were previously unknown).
There you have it. Three reasons for why nearby town newspapers should be considered as you conduct your genealogy research using newspapers. For other tips and resources, you can pick up my Legacy QuickGuide™ Using Historical Newspapers for Genealogy Research. If you're looking for in-depth instruction on using newspapers in your research, check out the National Institute for Genealogical Studies course US: Newspaper Records, which I had the privilege to update a few years ago.