Don't get me wrong…I love Legacy, and like everyone else, I am really excited for for version 8 being released. It's been awhile since we've had a major upgrade and there are several new features I look forward to using. But, I've noticed a few things that are causing some frustration.
Issue #1 – Hopefully a bug; occurs when working on a multiple-spouse person. Every time I save my work from the data input screen and exit out, it goes to Family View (as it should) but instead of showing the husband/family I was on when I went into data entry, it reverts back to the "preferred" husband. I want it to remain on the husband/family from which I started, as it has in previous versions.
Issue #2 – A bug for sure. On several occasions, I am entering an event and then I hit the Source button to add a source and I get an error message (Run-time error 3021) and the program crashes. NOT FUN!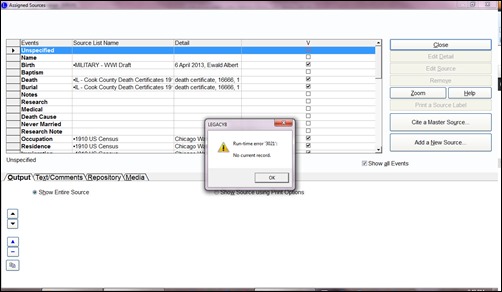 So far, that's all I've found. Relatively minor, but very annoying. Hopefully these issues will be resolved soon.