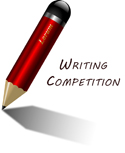 Don't forget, submissions for the Dallas Genealogical Society 2016 Writing Competition are due by March 31, 2016. You do not have to be a DGS member to enter and articles do not necessarily have to relate to the Dallas area.
Articles are to be 1,500-5,000 words in length, unpublished, and should fall into one of the following categories:
advanced methodologies and case studies (not limited by geography)
family histories and genealogies, linked to North Texas*, including those who came from or left to settle elsewhere
historical events in North Texas* with a local family connection
ethnic, house, or military histories related to North Texas*
*see official rules for definition of North Texas
Monetary prizes will be awarded as follows:
First Place – $500
Second Place – $300
Third Place – $150
Winners will be announced in May.
Complete details, including rules and submission guidelines, can be found here (opens a PDF).

---
Need some convincing to write about your genealogy research? See my post 4 Reasons to Convert Your Genealogy Research Into Writing.