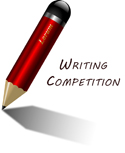 Entries for the 2017 International Society of Family History Writers and Editors (ISFHWE) Excellence-in-Writing Competition are now being accepted. Submissions are due by June 15, 2017 (a discounted entry fee is offered for entries submitted by March 15, 2017).
Both ISFHWE members and non-members are allowed to enter the competition.
Here are the categories for this year:
Category I – Columns. This is for columns of original content published on a regular basis, in any medium, published in 2016. Each entry must consist of 2,000 words or less. These are entries from the author's regular column, not features.
Category II – Articles. These one-time articles (not part of the author's column) must have been published in 2016 in a journal, magazine, newsletter, blog, or website. Entries cannot exceed 5,000 words.
Category III – Genealogy Newsletters. This category is for society or family association newsletters published in 2016. Entries should consist of two issues, each submitted as a single file in PDF format. The judging will be based on originality, content, visual appeal, writing and editing quality, and accuracy. The award is to the editor of the publication.
Category IV – Unpublished Authors. Entrants in this category aspire to be published writers or columnists in the field of genealogy, family or local history. The submissions in this category are original and unpublished, between 500 and 2,000 words.
Category V – Unpublished material by Published Authors. This category is for original unpublished genealogy-related articles by previously published authors. Entries should be between 500 and 3,000 words.
Category VI – Poetry/Song. This category is for original content (published in 2016 or unpublished) that is related to family history. Entries should be no longer than 1,000 words and have a title.
Cash prizes will be awarded to the winners of each category. Winners will be announced in the fall of 2017.
Complete details, including rules, judging criteria, entry fees, and the entry form, can be found here (will open a PDF file).
---
Need some convincing to write about your genealogy research? See my post 4 Reasons to Convert Your Genealogy Research Into Writing.