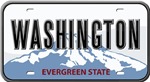 I actually have many people in my database that eventually ended up in Washington. Unfortunately, most of those are very distant cousins that I haven't done a lot of research on. I do however have a fairly close family who lived in Spokane, Washington for a brief period of time.
My half second great-grandaunt, Margaret Murnane, married William E King 16 February 1898 in Chicago, Illinois. They were certainly in Spokane by June 1900, when they were enumerated in the census. They had a child in Spokane a few months later in October. Another child was born in 1902 and it appears that shortly after that birth, the family returned to Chicago.
At this point, I have no idea why the went to Washington or what prompted them to return. Still have lots of work to do on this family.
---
Genealogy By the States is a theme created by Jim Sanders over at the Hidden Genealogy Nuggets blog.