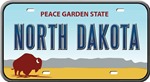 Lots of very distant cousins ended up in North Dakota, but most of my "research" is based on information from another researcher. So instead of discussing that, I thought I'd take a look at some websites related to North Dakota genealogy or history.
Sadly, I only have three websites on my Diigo list for North Dakota. Among them was one for the State Historical Society of North Dakota. After a little exploring, I found an interesting project they are working on and thought I'd talk about it in hopes of driving some publicity their way.
The society is working on a Veterans History Project where the goal is to collect "stories of wartime veterans who live in or served from North Dakota." A complete list of interviews collected so far can be found here. If I understand correctly, the interviews, which are mostly audio, are held in the society's archive collection.
They are still accepting interviews and complete details, along with interview questions, can be found on the project page. If you know someone who is a war veteran and lived in or served from North Dakota, please consider asking them to share their story for this unique project.
---
Genealogy By the States is a theme created by Jim Sanders over at the Hidden Genealogy Nuggets blog.