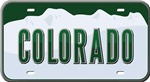 Back in 2011, I wrote about a new development pertaining to the research of Philip Rottman in And all the Stars Aligned.  Basically, I discovered that there was some truth to a notation my grandmother made about Philip and a story my cousin Barbara was told, both of which led me to discover Philip's place of death in Golden, Colorado.
In preparation for this post, I decided to revisit the Colorado Historic Newspapers Collection website to see if any newspapers had been added or if I had previously missed something.  I ended up finding the Colorado Transcript (Golden, Colorado) and did a page-by-page search (whether this newspaper was on the site in 2011, I have no idea, it may be that I previously missed it).  I did find another article related to his death:
The article didn't add much to what I already knew, but it got me thinking about looking for a coroner's inquest.  Long story short, I found that some Jefferson County coroner's records for that time period are housed at the Colorado State Archives.  Unfortunately, there appears to be no record for Philip.  Fortunately, the search allows you to omit a name, so I searched on Coroner's Records (and subsequently Coroner's Inquest) that occurred in Jefferson County in 1885.  No inquests, and only two categorized as Coroner's Records, neither of which was Philip.  Since there were only two, and I can't seem to find a good record description for these two sets of records, I plan to check with the County Coroner's office to see if ALL of the records are housed at the Archives, or if the county still has them.
I then noticed that the Archives also had probate records for Jefferson County, so I thought, heck why not, even though Philip lived in Iowa at the time of his death.  I have not found a probate record for him where he resided, which is odd since I believe he owned land and possibly a business when he died.  So, shot in the dark here, I search for Rottman, Rottmann, Rotman, yaddy-yadda, and nothing.  I almost gave up and thought, why not pull all 1885 probate cases for Jefferson County, like I did for the coroner's records/inquests.  And there on the list, was an entry that made perfect sense: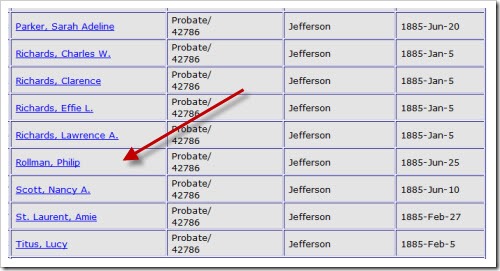 An indexing error?  Name recorded wrong in the papers?  Who knows.  But it has to be him.  And off to the Colorado State Archives went my request letter and a check.  Sure hope this record has something useful.  Fingers crossed!
---
Genealogy By the States is a theme created by Jim Sanders over at the Hidden Genealogy Nuggets blog.