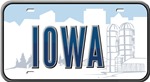 I don't have any direct ancestors who participated in the Civil War. The closest I come is the first husband of my third great-grandmother, Sarah Norton (Webster) Coffinger Mulligan. Before Sarah married my third great-grandfather, James Mulligan, she was married to Abram Coffinger.
Abram, Sarah, and their children lived in Iowa for a short time. A little digging recently has led to the possibility that he had family in Iowa, but I have not confirmed that theory yet. At any rate, while they were living in Iowa, the Civil War broke out. Abram enlisted as a Private on 22 August 1862. He was mustered in with Company C, 38th Infantry Regiment of Iowa on 12 September 1862. On 28 September 1863, he died of disease, and was also mustered out. What's strange is that he appears to have died back in Michigan, but I'm not sure why. More research will need to be conducted in order to understand the events and learn more about his service.
One resource that I came across while researching Abram was a series of books called Roster and Record of Iowa Soldiers in the War of the Rebellion. There are six volumes, all of which are digitized and available online at Internet Archive as follows:
Perhaps these books will help you research your Civil War ancestors from Iowa.
---
Genealogy By the States is a theme created by Jim Sanders over at the Hidden Genealogy Nuggets blog.