I received the following press release today from Hack Genealogy and thought I'd pass it along to my readers.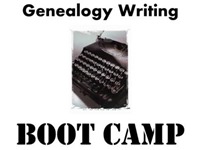 Genealogy Writing Boot Camp – November 23, 2013
Lisa Alzo and Thomas MacEntee Pool Their Talents
In Offering a Unique Online Educational Event
14 November 2013 – Chicago, IL. Do you want to write your family history in a compelling format to share with family and friends, but having trouble getting started? Perhaps you need inspiration as to format or you just want to build your writing skills. And what's up with Microsoft Word? Are you frustrated with getting Word to work with you instead of against you? You'll learn tips, tricks, ideas as well as Word survival skills in the upcoming Genealogy Writing Boot Camp.