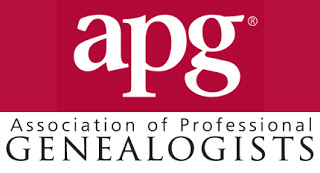 On Saturday, during the Association of Professional Genealogists luncheon at the FGS 2014 Conference, the recipients of the APG Achievement & Service Awards were announced. Congratulations to Laura Prescott, Claire Mire Bettag, Donn Devine, Carol Bannister, Melanie Holtz, and Harold Henderson. Details included in the press release below.
APG Honors Six Members for Achievements and
Service to the Field of Genealogy
SAN ANTONIO, Tex., and WHEAT RIDGE, Colo., 30 August, 2014 − The Association of Professional Genealogists (APG) honored six of its members for their achievements and service to the field of genealogy today at the 2014 Federation of Genealogical Societies (FGS) Conference in San Antonio. APG President Kimberly T. Powell presented the awards at today's APG luncheon.
Award recipients included:
Laura Prescott received the Grahame T. Smallwood, Jr., Award of Merit, which honors personal commitment and outstanding service to the APG. Prescott has served APG in several capacities. She served as President and has served on the APG Board of Directors for six years. Currently, she chairs the APG Nominations Committee. Prescott is Director of Ancestry Academy, for Ancestry.com. She lectures and writes for local, national, and international audiences on a variety of genealogical topics, including the use of personal documents and manuscripts in genealogical research, genealogy on the Internet, and computerized genealogy for Mac users. Her articles have appeared in Ancestry, New England Ancestors, Genealogical Computing, NGS News Magazine, and Digital Genealogist.
Claire Mire Bettag, CG, received the APG Professional Achievement Award. The award, created in 2007, recognizes exceptional professional achievement and ethical behavior with contributions to the field of genealogy. As a nationally recognized instructor, lecturer, and researcher, Bettag teaches at the Institute of Genealogy and Historical Research (IGHR), the National Institute for Genealogical Research (NIGR), the Salt Lake Institute on Genealogy (SLIG), the Genealogical Research Institute of Pittsburg (GRIP), as well as at national and regional conferences. She was a contributing author to Professional Genealogy and has written for several genealogical publications. She is on the editorial board of the National Genealogical Society Quarterly (NGSQ) and has served as a trustee on the Board for Certification of Genealogists, a director of NIGR, co-editor of NGSQ, and has served on the boards of APG and the National Genealogical Society.
Donn Devine, CG, FNGS was granted APG's Honorary Life Membership for his service and generous gifts of time and resources to the organization. Devine is a frequent speaker at APG events. He is a genealogical consultant, archivist of the Catholic Diocese of Wilmington, and former city government attorney. He was a trustee for the Board for Certification of Genealogists and a board member and fellow for National Genealogical Society.
Certificates of Appreciation were awarded to two members. Carol Bannister was recognized for her passion and dedicated assistance in the formation and for continued support of the Britain, Ireland and the Isles Chapter, and support and staffing of the APG stand at Who Do You Think You Are? Live (20132014). Melanie Holtz, CG, received the award for her hours of work and innovative ideas as part of the APG Professional Development Committee (20112014), which she chaired in 2014.
Certificates of Service were awarded to Harold Henderson, CG, and Melanie Holtz, CG, for their service on the APG Board.
"Todays recipients are outstanding examples of the wide range of backgrounds and expertise that contribute to the field of genealogy," said APG President Kimberly T. Powell. "We thank them for their hard work and contributions to APG and the genealogy profession."
APG also announced today the winner of its Young Professional Scholarship, Eva Goodwin. See the press release at APG's website.
About the Association of Professional Genealogists
The Association of Professional Genealogists,established in 1979, represents more than 2,700 genealogists, librarians, writers, editors, historians, instructors, booksellers, publishers and others involved in genealogy-related businesses. APG encourages genealogical excellence, ethical practice, mentoring and education. The organization also supports the preservation and accessibility of records useful to the fields of genealogy and history. Its members represent all fifty states, Canada and thirty other countries. APG is active on LinkedIn, Twitter, and Facebook.