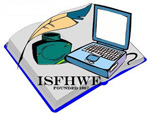 The International Society of Family History Writers and Editors is proud to announce the winners of the Excellence-in-Writing Competition. All entries were exceptional this year.
Category 1 – Columns
1st Place – Elaine Thomas: "For the Love of Dinah"
2nd Place – Carolyn Schott: "Welcome Back to Osthofen"
3rd Place – Maureen Wlodarczyk: "More Than (Immediately) Meets the Eye"
HM – Valerie LaRobardier: "Do You Have an 'Indian Princess'?"
Category 2 – Articles
1st Place – Martin Fischer: "How the Gogolinsky Family of Warsaw Became the Barney Family of St. Louis, Missouri"
2nd Place – Joseph F. Martin: "Apolonia Lewicka and the Priest"
3rd Place – Mari Margaret McLean, PhD: "Unintended Family History: Thomas Scholfield's Letter to His Brother"
HM – Fred Delcomyn: "A Danish Lad in America"
HM – Karen Brattesani: "A Soldier's Stories of World War II as Told to his Daughter"
HM – Sherri Panchaud Onorati: "Lucky to Be Here"
Category 3 – Newsletters
1st Place – Michelle D. Novak: Genealogical Society of Bergen County, NJ's The Archivist
2nd Place – Patricia Mansfield Phelan: Newsletter of the Irish Family History Forum
Category 4 – Unpublished Material, Unpublished Authors
1st Place – Joan F. Vitale: "The Messenger"
2nd Place – Bonnie Dodge: "Getting to Know Grandmother, A Step Back in Time"
3rd Place – Robbin M. Smith: "I Have an Aunt Alice?"
HM – Linda D. Fritz-Langston: "Grandpa & His Puzzle"
Category 5 – Unpublished Material – Published Authors
1st Place – Dave Strausfeld: "Gus Cloepfil and his Migration Westward"
2nd Place – Wevonneda Minis: "DNA Decision"
3rd Place – Elaine Thomas: "Boyhood Tales from the Great Depression"
HM – Wendy Wilson Spooner, Lic . G, LCoT: "The Relevance of Genetic Knowledge to Genealogical Research
HM – Andrea Butler Ramsey: "The Nickel Man"
HM – Emilee Marks: "The Tale of Two Wilhelmina Gogollas"
Category 6 – Poetry & Song
1st Place – Kavya Srikanth: "An Ode to Time Lost"
2nd Place – Lori Lyn Price: "Virden, New Mexico"
3rd Place – John Newmark: "Cause of Death"
HM – Anthony Proctor – "The Great Wave"
Congratulations to all the winners!