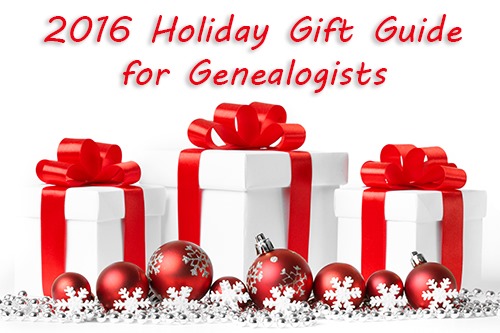 Your guide to genealogy-related gift ideas to add to
your own holiday wish list!
Genealogical Reference Books
There are so many books to choose from, but these are my go-to books and I recommend them for anyone working on their genealogy.
Red Book: American State, County & Town Sources, Third Edition – While this book is available through the Ancestry.com Wiki, I prefer the book version. I can highlight it, stick post-its all over it, write notes, and flip back and forth with ease. Although this latest edition was published in 2004, it's still a valuable resource. It's organized by state and goes through the various records types and repositories. Handy tables for each state show each county, along with its formation date (and if it was formed from another county), and the beginning dates for vital, land, probate, and court records. Some states, like Connecticut, do this by town instead of county.
The Source: A Guidebook of American Genealogy, Third Edition – Also available through the Ancestry.com Wiki, it's another book where I prefer the hardcopy for the same reasons mentioned above. Still relevant even seven years after this edition was released, this book is organized by topic and gives a good overview of each topic. Particularly helpful for beginners who are transitioning to more advanced research.
The Researcher's Guide to American Genealogy, Third Edition – This book is similar to The Source and there is some overlap in topics. However, they're each presented differently and it's sometimes better to have both. Each one covers a few topics the other doesn't.
Professional Genealogy: A Manual for Researcher, Writers, Editors, Lecturers, and Librarians – NOT just for professionals, this is a wonderful resource even if you have no plans to do genealogy for a living. It covers a variety of topics from research reports to transcriptions to writing family histories, as well as information targeted at the professional such as business management and marketing.
Evidence Explained: Citing History Sources from Artifacts to Cyberspace, Third Edition – The preferred standard for citing sources in the genealogy world. While it serves as a reference for endless citation scenarios, the first chapter is dedicated to evidence analysis, which should be read and reviewed often.
Genealogy Standards – This book documents a set of generally-understood standards in the genealogy community. While it is the basis for those seeking certification through BCG, it is seen as a guide for quality genealogy research for everyone, from beginners to experts.
Mastering Genealogical Proof – Released last year, this is a workbook to help genealogists understand and use the Genealogical Proof Standard as defined in Genealogy Standards (above). Also available for Kindle.
In addition to these general resources, there are some topic-specific books that I also highly recommend. They include:
Genealogical Reference Guides
Genealogical & Historical Non-Reference Books
And then there are some fun books, including fiction, worth reading. They include:
You can find more genealogy-related mysteries here (there are a bunch!).
Magazines
Some of my favorite genealogy magazines include:
Society Memberships
There are plenty of genealogical and historical societies out there at all levels: national, regional, state, and local. Two of the more popular national/regional societies are the National Genealogical Society and the New England Historic Genealogical Society. Professional-related societies include the Association of Professional Genealogists and the American Historical Association. To find other societies, start with the listing provided at Cyndi's List.
Software & Apps
These are the most popular genealogy database programs:
In addition, there are plenty of other genealogy-related software tools that might be of interest to you:
Want your family tree database on your mobile device? Here are a few apps you might want to try out:
Families (android, works with your Legacy Family Tree database file)
GEDFamilies (android, works with any GEDCOM file)
And don't forget about photo-editing software to help you preserve your photo collection and documents. I personally use Photoshop because I also use several other Adobe products in the Creative Suite (now Creative Cloud). I've heard that Photoshop Elements is a cheaper alternative to Photoshop and still provides a wide range of capabilities suitable to the needs of genealogists.
Subscription Websites
Office Supplies
I love office supplies! I'm always finding new goodies that I find helpful for research. Here are a few that I really like to use.
Tools & Gadgets
There are many tools out there that come in handy for the genealogist. Here are a few of my favorites:
DNA Testing Kits
There are three major players in the arena for genealogical autosomal DNA testing.
Education
There a several educational opportunities available to us. Some are free, others, not so much. So why not add one of these opportunities to your list?
National Institute for Genealogical Studies – Tons of courses to choose from. You can even earn certificates in a variety of areas, including American Records and Professions Development.
American Genealogical Studies – The development of this series is still in progress (the first two course are currently available) and is replacing the NGS Home Study Course. NGS also offers PDF Courses and Online Courses on specific topics.
Family Tree University – Has a variety of courses available in different formats: Online Courses, Independent Study Courses, and Webinars. FTU also holds virtual conferences throughout the year.
Jewelry
I love jewelry and family history, so why not combine them? There are plenty of jewelry items out there, many of them customizable to include the birthstones of children. But since I don't have any children, I tend to gravitate to the one's without the customizable stones. Here are some of my favorites:
Novelty Items
Anything with a genealogy touch always makes a great gift: T-shirts, mouse pads, notebooks, mugs, etc. These are the two places I go when I want to give myself a genealogy-related gift:
---
What about you? Do you have any suggestions? What are you asking for this holiday season? Leave a comment and let me know.