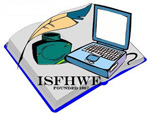 The International Society of Family History Writers and Editors is proud to announce the winners of the 2015 Excellence-in-Writing Competition. The winners are:
Category 1 – Columns
1st Place – Ernest Thode, Ask Ernie
2nd Place – James M. Beidler, Roots & Branches: Painful, poignant visit to mentor's grave
3rd Place – Maureen Wlodarczyk, Genealogy: It's not a tree or a chart…it's a story!
Honorable Mention – Michael McKeag, Where to Finish? 1 – My Family History
Honorable Mention – Carolyn Leonard, When the Cheering Stopped – the last years of Woodrow Wilson
Category 2 – Articles
1st Place – Barbara J Starmans, PLCGS, Married to the Army
2nd Place – Maureen Wlodarczyk, Grazia Fucci Lipari
3rd Place – George G. Morgan, Managing Your Speaking Engagements
Honorable Mention – Sheri Hessick, MayDay! MayDay! Lost Behind Enemy Lines
Honorable Mention – Vi Parsons, Root Cellar Preserves
Category 3 – Newsletters
1st Place – Michelle D. Novak, The Archivist
2nd Place – Stephen Gauss, Harriman Family Newsletter
3rd Place – Kathryn Manz, Penn in Hand
HM: Linda Vixie, Pike Peak Genealogical Society Newsletter
HM: James M. Beidler, Der Kurier
Category 4 – Unpublished Authors
1st Place – Elyse Hill, History Lessons Learned From a Birth Certificate
2nd Place – Wendy Wilson Spooner, Civil Registration and Census Development in Great Britain & America
3rd Place – Catherine Smith, In a Flash
Honorable Mention – Louise A. Eckhardt, A Mystery within a Mystery
Honorable Mention – Diane Buescher, Finding Elusive Ancestors in Early German Church Records
Category 5 – Unpublished Material/Published Authors
1st Place – David Harper, Corresponding Hearts
2nd Place – Robyn Smith, of "Reclaiming Kin" Genealogy Blog, Minty's Legacy: A Black Family in Slavery and Freedom
3rd Place – Dave Strausfeld, Hudie Streisfeld and her life in the Austro-Hungarian Empire
Honorable Mention – Ruth Randall, CG, Evidence of the Parentage of a Buffalo Solder: John Martin Daniels, Company I, 125th Regiment, United States Colored Infantry
Honorable Mention – Carolyn Leonard, Dutch Letters
Category 6 – Poetry
1st Place – Luanne Griffin, Going Home
2nd Place – Casey Lin Brown, If I'd Met You
3rd Place – Lisa Brahin Weinblatt, Great-Grandmother
Honorable Mention – Phyllis Matthews Ziller, MLIS, Finding Sarah
Honorable Mention – Kenneth R. Castle, PhD, They are Calling to You
Congratulations to all of the winners!!