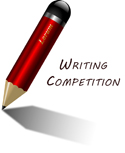 Entries will be accepted January 1, 2015 to March 1, 2015 for the Oklahoma Genealogical Society's 2015 Family History Writing Contest. Everyone is invited to enter; there is no entry fee and you do not have to be a member of the society.
Submissions must be original, unpublished, and less than 2,500 words. Winning entries will be published in the Oklahoma Genealogical Society Quarterly.
Complete rules, along with the entry form, can be found at the society's website. It is unclear as to whether entries must be related to Oklahoma in some way. It appears there will be cash prizes awarded, but they are not specified.
Good luck!
---
Need some convincing to write about your genealogy research? See my post 4 Reasons to Convert Your Genealogy Research Into Writing.