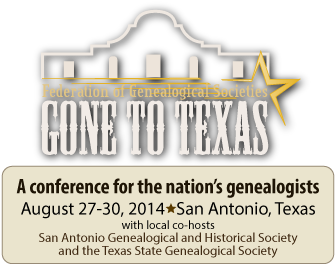 2014 FGS CONFERENCE REGISTRATION IS OPEN
"Gone to Texas" – A Conference for the Nation's Genealogists
March 27, 2014 – Austin, TX. Online registration is now open for the 2014 Federation of Genealogical
Societies (FGS) Conference, scheduled 27‐30 August 2014 in San Antonio, Texas. Register at
http://www.fgsconference.org by 1 July 2014 for an early‐bird discount. This year's conference theme is
"Gone to Texas," and the local hosts are the San Antonio Genealogical and Historical Society (SAGHS)
and the Texas State Genealogical Society (TSGS).