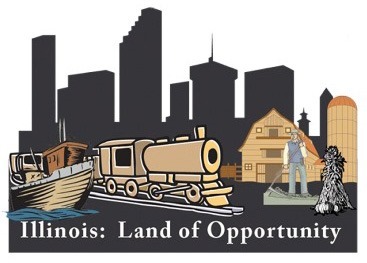 I'm happy to announce that registration is now open for Illinois State Genealogical Society's 2014 Fall Conference, which will be held October 24-25, 2014 in O'Fallon, Illinois. Speakers and lectures for this year include:
J. Mark Lowe

Early River Towns
Cheap Land on the Prairie (Or That's What the Railroad Man Said…)
My Taxes Were Due When? Using Delinquent Tax Lists and Release Books

Tony Burroughs

Black Migrations
Researching Pullman Porters, Railroad Records for African Americans
Farmers, Tenant Farmers, and Share Croppers

Patricia Walls Stamm

Railroad Men & the Records They Left Behind
Journey Along With Our River and Canal Ancestors

LaDonna Garner

African American Genealogy Basics
Preservation of Midwest Pioneer Cemeteries

Gwyneth Podeschi

Suddenly She Was the Head of Family
In Search of Cyrus
There will also be general lectures as follows:
What is IRAD?
Southern Illinois Genealogical Research Facilities
ISGS Opportunities
ISGS Prairie Pioneers and Military Certificates Projects
Cost for the entire conference (including the banquet dinner on Friday and lunch on Saturday) is $110 for members, $125 for non-members. Other package options are available.
For all of the details, including speaker bios, lecture descriptions, pricing options, lodging information, etc., visit the 2014 Fall Conference page on the ISGS website.