Many of you may recall that last September I took on the position of managing editor for the Illinois State Genealogical Society Quarterly (see previous post if you missed this news). I am currently working on my fourth issue…it's hard to believe it's been a year already!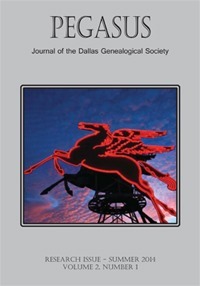 But what you might not have know, is that earlier this year, I accepted the editor position for the Dallas Genealogical Society's biennial publication, Pegasus. I am happy to report that my first issue is out! In fact, you can see a preview version of the issue, which includes one full article and the name index. I have had a lot of fun working on the publication and with the Publications Committee.
Should you be interested in writing for Pegasus, check out the Writer's Guidelines for more information. Note that DGS does pay its authors upon publication, one of only a few societies that do so.
Both publications keep me pretty busy these days. And on top of that, I've been working on various articles, which should be published later this year. I am also still working on a new course for the National Institutes for Genealogical Studies. All of these things, along with client work, have kept me away from the blog lately. Hopefully, as I wrap up some projects and get caught up, you'll see more posts from me…believe me, I have a lot to share!